We weren't impressed by the first Sony P Series, with Sony's quest to shrink a laptop to the size of a keyboard forcing excessive sacrifices. The company, oddly, ignored us: it's decided the P Series just needed a few more tweaks. The most obvious change is its styling. No longer subdued and professional, the new VAIO P Series shouts "look at me!" in its most colourful incarnation: vivid orange. A more subdued white version is also on offer.

The office verdict on the orange version is largely unprintable. However, the P Series deserves praise for looking so different from a typical laptop, and numerous design touches set it apart: we like the way the keys' colour matches the casing, for instance, while the matte finish and swooshing curves add to its appeal.

A more subtle change can be seen on either side of the screen. Sony's designers realised that people often used their P Series to view documents or websites, and would hold the laptop with their thumbs resting on the screen edge. To make navigation easier, it's added a touchpad (measuring 16mm x 16mm) to the right of the screen, with left- and right-click buttons to the left.

It takes three good swipes to move the cursor from one edge to another, but if you're out and about - using the built-in GPS to navigate the streets with Sony's Location Search software, say - then it's great. Even more interesting is the accelerometer, which flips the P Series into portrait mode when you hold it in a vertical position. Sony believes you can read books and digital magazines this way, but without a touchscreen - and at just 768 pixels wide - this is hardly a pleasurable experience.

We have mixed feelings about the screen itself. Squeezing 1600 x 768 pixels into an 8in diagonal makes system text look tiny, and it isn't helped by a slightly mottled display: Word documents, for example, look fuzzy. One big help, however, is the new Change Resolution button that sits to the right of the mouse buttons. Press this and within a second the resolution changes to 1280 x 600.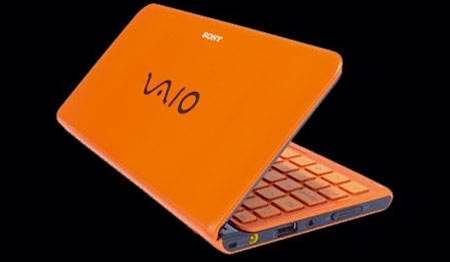 As well as orange, the P Series can be had in pink and lime green – and white or black.
Inside, Sony includes an Atom processor. The 1.86GHz Z540 is near the top of Intel's range, but even with 2GB of RAM and a 64GB SSD to help boost performance there's no getting away from this machine's limited capability. (The higher spec P Series includes a 2.13GHz Intel Atom Z560 and a 128GB SSD, but costs $1900.)
To boost speed, you should disable or remove some of the bloatware Sony includes: there are more than 20 other VAIO-branded utilities of dubious worth. Removing them almost cut boot times in half, from 2mins 5secs to 1min 7secs.
Demanding tasks such as playing back video in BBC iPlayer will still push the limit of the P Series' abilities, but it's far from unusable. When you're working in Word, for example, it's as fast and responsive as you need it to be. We also found the keyboard acceptable. The only real annoyance is the trimmed full-stop key, which is 11mm wide compared to over 13mm for the character keys. This led to quite a few mistakes at first, but (unlike the annoyingly loud click from the mouse buttons) we soon grew used to it.
One area where Sony couldn't improve on the original P Series was its size. This is the only fully fledged laptop we've seen that can slip into a jacket pocket, and perhaps more pertinently into a handbag. At 624g, it won't weigh you down either. There's only room for a two-cell battery, but Sony has done some clever tweaking to squeeze an impressive 5hrs 17mins of light use out of it.
With so many wireless radios inside the new P Series you'd be well advised to disable them when not required using the hardware switch on the left-hand side, but connections elsewhere are limited. There's a 3.5mm headphone jack, two USB 2 ports, an SD card slot and a Memory Stick slot. If you want to connect to an external monitor, you'll need to use either a display adapter or a port replicator, neither of which is bundled - the replicator is necessary to take advantage of Gigabit Ethernet too.
The VAIO P Series is unique, and once you remove the bloatware it becomes nippy enough to handle basic tasks without making you want to bang your head against the wall in frustration. Even in this leaner form, however, we can't recommend it. At $1599, it's still too expensive, and we remain unconvinced that the gains are worth the loss in usability compared to a low-cost ultraportable.