Toshiba is on the verge of releasing a "smart pad" to run operating systems by Google and Microsoft to take on Apple's iPad.
At a 25th anniversary retrospective of its devices in Sydney today, Toshiba Information Systems Division Australia managing director Mark Whittard said the mobile device maker was still researching the composition and format of the tablet or "slate" PC it will release before October.
It will run Google's Android and Microsoft's Windows 7 operating systems, although he wouldn't divulge whether it will run both at the same time or, if separate models, which would come first.
Holding up a prototype of the device, Whittard said the company known for its notebook PCs but which was rebranding as a general mobile devices and networking maker was seeking input from customers and industry about what the device should look like.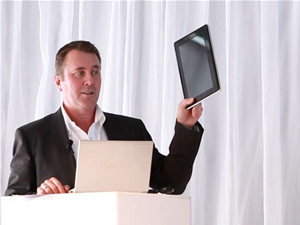 Toshiba ISD managing director Mark Whittard holds up the iPad rival
"This prototype has a HDMI slot; does that make sense? I think so. If you're using it as a browsing tool for content sometimes you will want to connect it to your telly. Do you put in USB? I think so," Whittard said.
He said the "digitiser technology" to allow multi-touch input was an option but wouldn't be drawn on whether it would make the final cut to be included in the device.
It was the biggest simultaneous launch of products in the division's history, Whittard said. Resellers catering to business customers will have a choice of 17 new models, while retail-consumer outlets will have 19 devices with which to contend.
Toshiba is releasing next month two 25th anniversary models including the Portege AC 100 Android "cloud companion" that he said "combines the functionality of a smart phone and the useability of a netbook" in a package with eight hours battery life and a week on standby.
At 820 grams, the limited-edition ultra-mobile PC Libretto W100 (pictured above) has two seven-inch touch screens and a 1.2GHz Pentium ultra-low voltage processor running Windows 7.
Its 13.3-inch Portege R700 with up to 2.66 GHz Intel Core i7 processor and up to 8GB of memory was in the channel for about $5000 RRP.
Whittard said the importance of cloud computing and mobile networking was informing the direction the company was taking to its customers. It expected such internet centricity to double sales to 25 million units this year backed by accessories such as LED TVs, digital video cameras with 1GB hard drives and nVidia 3D gaming notebooks.