Google has brought a new security feature to the latest update of its Lollipop release of Android, allowing users to keep their device unlocked as long as its still on their body.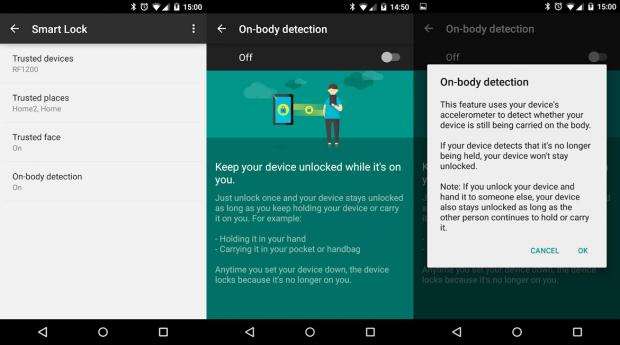 Known as "On-body detection", this new feature keeps your smartphone unlocked for as long as it's held in someone's hand or put in a pocket. The moment the device is placed on a surface the phone locks itself, stopping others from picking it up and jumping in. This means you save precious time unlocking your phone over and over again when its screen times out or you put it away after sending a quick text.
On-body detection works through your phone's accelerometer to detect if it's being held or not. Strangely, this feature is currently only available on Android 5 and above, and there's no word on it coming to earlier builds. Seeing as, according to Google, only around 3 percent of Android devices currently run Lollipop, it would be beneficial to roll it out to all Android builds instead of just Lollipop.
However, the addition of On-body detection as a "Smart Unlock" feature is alluring to those who want quick-access to their smartphone. As Google can't support a biometric verification service due to the varied devices it runs on, this is the next best thing. The trouble is, it really isn't all that secure.
Using our Nexus 6, running Android 5.1 Lollipop, we noticed that On-body detection wasn't as responsive as we'd have liked. From a security standpoint, placing your device down on a surface doesn't lock it instantly. Instead it takes around 15 - 20 seconds to kick in, giving an opportunist thief just enough time to grab it and gain access to the entirity of your phone.
Perhaps On-body detection could work better if updated with an Android Wear pairing solution. If your phone ventures too far from your watch when "On-body detection" is on, it automatically locks. When near you, and thus the watch, it stays completely unlocked. Think of it as an expansion of Android Wear's "find my phone" functionality.
But perhaps that's wishful thinking.