What makes an iPad "Pro"? Not long ago, you might have included a larger screen in the list of characteristics that turns an ordinary iPad into a Pro device, but not anymore. With the iPad Pro 9.7, Apple has turned that idea on its head.
Visually, the iPad Pro 9.7in is almost identical to the iPad Air. It's the same size and weight, and the main clues that it's not an Air are on the back, where the camera bulges out, iPhone 6-style, and – if you have a 4G-equipped version – the former black stripe at the top is now silver. There's also the telltale three black dots on the side that indicate the presence of Apple's Smart Connector, for hooking up compatible keyboards.
The main changes are all internal, where you'll find an Apple A9X processor and up to 256GB of storage. The screen, too, is entirely changed and now supports the Apple Pencil. The question is whether all this adds up to a genuinely "Pro" device.
Pencil and Smart keyboard
If you've used the Apple Pencil on the larger iPad Pro, you know what to expect from it on the smaller one. As we said in that review, the Pencil is the closest experience you'll get to writing with a real pencil on paper. Yes, you don't get the actual feel of pencil on paper, the slight drag, the physicality of leaving a trail of actual atoms on top of something. But the way Apple reflects a change in the pressure you're applying, and the angle of the Pencil itself, is somehow, magically, reflected in what appears onscreen. It's an excellent experience.
Arguably, the Pencil is a better fit for a smaller iPad. The 12.9in version is a pretty big thing to write or draw on, more like an artist's sketchbook than a business notepad. That's great if you're an artist – you can certainly see how the designers in Apple's design studio would love the larger size – but for an average person, the smaller device feels more familiar and natural than its big brother.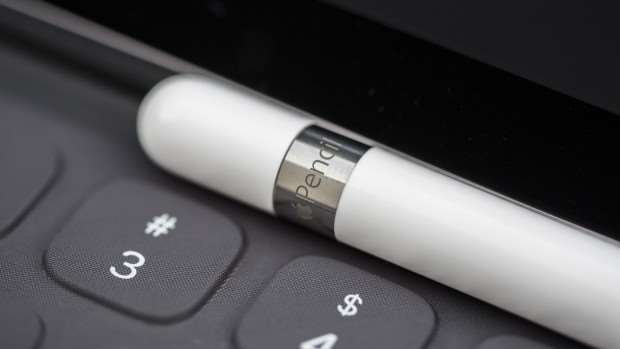 If you're the kind of person who routinely carries around something like a Moleskine notebook, you'll love the combination of the iPad Pro 9.7in and the Pencil. If you regularly use an app such as Apple Notes or Microsoft OneNote, you'll love it even more. The combination of Pencil and iPad Pro 9.7in is possibly the ultimate OneNote machine. It's portable, light, and a great writing and drawing experience.
Where the smaller iPad Pro compares much more poorly to the larger one is as a machine for typing. First, the good bit: Apple has done an excellent job of shrinking the Smart Keyboard cover to smaller iPad proportions and retaining a decent typing feel. However, even Cupertino is subject to the laws of physics and biomechanics, and a smaller keyboard is more tiring and less comfortable to type on than the more spacious one. I've found that I can happily type on the iPad Pro 12.9in's Smart Keyboard for an entire day with no ill effects. The smaller version left me feeling cramps in the hands after only 500 words.
In a pinch, or when travelling, the Smart Keyboard is fine. However, if you're serious about writing a lot, you'll do yourself a favour if you buy an Apple Bluetooth keyboard instead.
You're going to love the screen on the iPad Pro 9.7in. It's so good that I spent time just staring at the serried ranks of icons on the homescreen, admiring the colours on it. It's not just pleasant to use: it's an actual, real pleasure.
Apple's done several things to make the screen better. The first is that it's brighter – Apple claims 25 percent – and this, coupled with lower reflectivity, makes it much easier to read outside. But the biggest improvement is what Apple's calling True Tone. True Tone is an active adjustment of the onscreen colour temperature based on the ambient light, measured by a tiny light sensor on the iPad.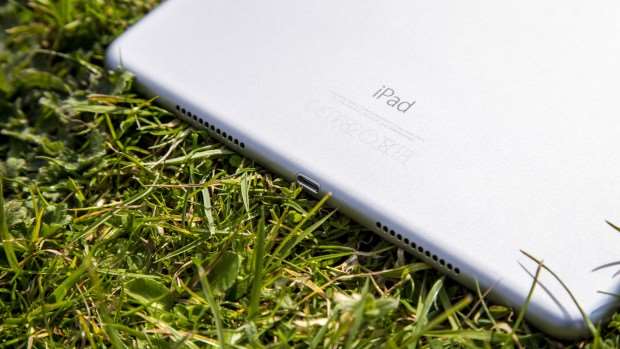 Executed poorly, this kind of system would be terrible. Get the calibration between screen temperature and ambient lighting wrong, and your screen would be oversaturated, or dull, or washed out. There are so many potential lighting conditions that creating an algorithm for optimising the screen is a very tough proposition.
But Apple hasn't done it badly. In fact, True Tone looked fantastic in every lighting condition I used it in. I turned it off for a while and quickly wanted it back on. It just looks better – you're going to love it and want it on every other screen you use.
Camera
Tablet cameras are something you either use a lot or think are a complete waste of time. The camera on your tablet, if you own one, has always been a generation behind the camera on your phone – often, multiple generations behind.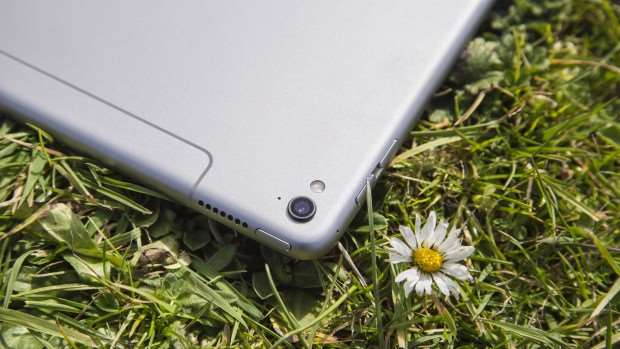 The iPad Pro 9.7in changes this. It uses the same 12-megapixel camera as on Apple's current flagship phones, and it takes good pictures. In fact, the pictures are so good that when I look at them in the Photos app, I struggle to remember whether I took them with the iPad or my iPhone.
You get all the bells and whistles you're used to from the iPhone, too, including Live Photos. Whether you think that these are gimmicks or not, it's good that Apple is taking tablet photography seriously enough to make sure it's not a second-class citizen.
Performance
Of course, a new iPad will be faster than an old iPad. But Apple claims the new iPad Pro is 2.4 times as fast as the iPad Air 2, which was itself no slouch. We're still running our benchmarks, but there's no doubt that this is one fast tablet. Using demanding apps like Adobe Photoshop Fix is just breezy.
The iPad Pro 9.7in isn't as fast as its bigger sibling, however, for one reason: Apple has chosen to equip it with 2GB of RAM, rather than the luxurious 4GB that comes in the 12.9in iPad Pro. You only really notice the difference when working with large images and big video files, or when you have a million tabs open in Safari. However, if you're used to the speed of the bigger iPad Pro, you will notice it.
But if you're coming from an older iPad, or if this is your first iPad, you'll be amazed about how quick this is. It's still, as Apple always says, "desktop-class" performance. It's just a bit of a slower desktop.
iPad Pro 9.7 review: Price
So far, so good. There's no doubt that the iPad Pro 9.7in is a marvellous tablet, and I loved using it. But there's a catch: you're going to pay for it. In fact, you're going to pay a lot for it.
On its own, the iPad Pro 9.7in will cost you anything from $899 for a 32GB Wi-Fi version up to $1,599 for one with 256GB of storage and both Wi-Fi and LTE. Add in an Apple Pencil ($165) and Smart Keyboard ($229) and you could spend as much as $1,829.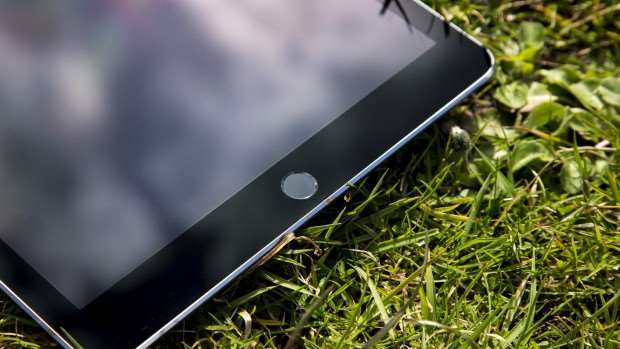 Even the entry-level price is not exactly inexpensive. Add the Pencil and Smart Keyboard to the 32GB Wi-Fi version, and you'll still pay $1,293 – more than the most expensive version of the Surface 3.
Yes, this is a machine that's beautifully designed, runs the entire range of iPad apps, and is extremely portable. It's packed with great technology and has the best screen you'll see on any device. Leaving aside the iPad Air 2 (which Apple is keeping in the lineup for the time being), it's also Apple's cheapest computer. But no matter how you look at it, you're paying a lot of money for a device with a 9.7in screen.
Verdict
This is one of the toughest reviews I've ever had to write. The starting point is this: Apple has made the best tablet on the market, full stop. It's probably the best device Apple has ever made, and given the company's history that's saying a lot. It's also a joy to use, and their PR team may have to pry it out of my fingers when the time comes to give it back to them. In fact, I may just claim it never got delivered.
If you're a business user, the iPad Pro 9.7in is the ultimate "carry about the office" device. It's brilliant if you spend your time going to meetings, taking notes, managing people, and firing off emails from odd places. If you use OneNote, it's the best experience for note-taking you'll ever have, leagues ahead of anything on Windows.
And thanks to the keyboard and Pencil support, it's also an incredibly capable device for creating. Don't make the mistake of thinking that "the iPad is only for consumption". Use the Pencil with something like Photoshop Fix for a few minutes, and you'll see how this combination makes you more creative than you'll ever be with a laptop.
But unlike its bigger sibling, it's not a machine that you can sit and work on all day. The 9.7in screen, which makes it an ideal note-taking device, will be too cramped for anyone who wants to write a long Word document or change around a big spreadsheet.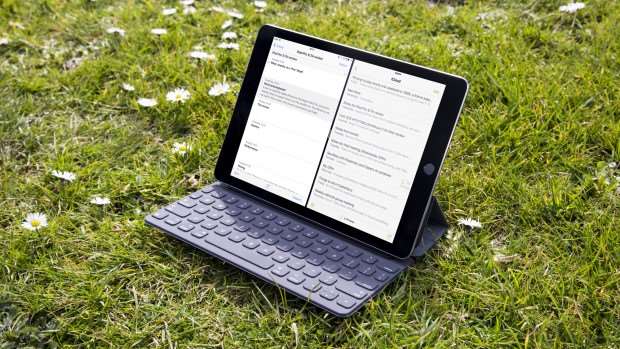 And that's why I think the "Pro" name is a bit misleading. If you think of "Pro" as meaning "supporting the Smart Keyboard and Pencil", then, yes, it's a Pro device. But unlike the larger iPad Pro, it's much harder to make the case that it can replace your laptop. This whole review was written on the larger iPad Pro, bar 500 words that were written on the 9.7in iPad and caused my fingers to ache.
It's a much better iPad than the iPad Air 2, thanks to support for the Pencil and (to a lesser extent) the Smart Keyboard. The screen is the best one on any tablet. In fact, it's so lovely that I want this on all my machines, right now. The camera might finally make you want to use the camera on a tablet because it's almost as good as the one on your iPhone.
It's a laptop replacement for a more sizeable number of people than any 9.7in iPad before it. It chips away at the reasons someone should buy a laptop, but to a lesser degree than its bigger sibling.
It's a much better iPad than the iPad Air 2, thanks to support for the Pencil and the Smart Keyboard
And that's okay. At first, I felt like the fact that this "Pro" iPad couldn't replace a laptop to the same degree as the 12.9in version was a big deal. As I've spent more time with the device, though, I've come to realise that it matters much less than I initially thought.
Despite Apple's hype, for most people the iPad will be a second device, rather than the only device. But Apple has created a device you'll want to spend more time with, one that makes your laptop look and feel clunky and old-fashioned. The increasingly rare times when you have to use a laptop will make you feel disappointed and eager to get back to the iPad. This is a tablet you'll want to use more of, and there's no higher praise for any piece of technology than that.