Where Google, Motorola and LG failed in modular phones, Facebook seems to be working on a device that would let users swap components in and out when needed.
A mysterious patent, filed last year and awarded this week, has revealed that Mark Zuckerberg's company has ambitions to create a "modular electromechanical device" made up of individual "functionality modules connected to a chassis".
Put simply, a modular Facebook phone.
The patent explains that each module will have a different function, and examples listed include speakers, microphones, touch pads, GPS sensors, screens, and thermometers. Drawings in the patent show these modules slotting into what looks like a chunky, rectangular base resembling a phone or camera.
The employees named on the patent all worked for a start-up Facebook acquired last year called Nascent Objects. Based in California, the startup's expertise lies in creating modular systems people can use to build gadgets. It became part of Facebook's Building 8 lab, which is focused on rapid prototyping.
This isn't Facebook's first foray into hardware. In 2011 HTC released its low-end HTC Status and HTC Slate phones which shipped with the Facebook pre-loaded and had Facebook integrations in HTC's Sense software.
Two years later, HTC released HTC First, a mid-range handset running Facebook Home which was (incorrectly) dubbed the Facebook phone. AT&T launched it for US$99 in the US, which quickly plummeted to 99 cents.
Criticisms ranged from poor specifications to a lack of a unique selling point and largely irrelevant software. In these instances, Facebook relied on hardware partners instead of making the product itself.
More recently, Google dipped its toe into the modular market with
Project Ara
, an ambitious project to build modular smartphones with interchangeable components. In the summer of 2016 Google promised a developer version of the modular smartphone by the end of the year, with a consumer version to follow in 2017. By September, the plug had been pulled.
The closest we've come to modular handsets range from the LG G5, which you need to turn off to swap components and is relatively limited in scope, the Fairphone 2, which allows you to replace the screen in 60 seconds, and the Moto Z which lets you add mods to enhance your phone, rather than to replace existing parts exactly.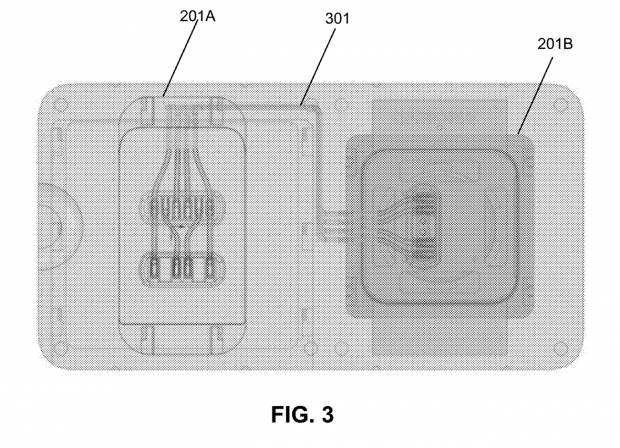 So what makes Facebook think it can succeed where others have failed?
Nascent Objects' entire business model is based on modular design, plus a number of its employees worked on Google's failed Ara project so may have learned some lessons.
Facebook certainly has the capital to invest into a project such as this, and it has been experimenting more with hardware acquisitions and partners (namely Oculus and Samsung) in recent months. Plus, having seen Snapchat venture into hardware with its Spectacles, Zuckerberg may be looking for a slice of the action. What's more, the patent describes each module as being 3D-printed, which could help future-proof the plans a little.
Alternatively, Facebook may have filed for the patent to prevent rivals or other tech giants stealing a charge on the technology and we'll never see a true Facebook phone.