Just about any switch or router purchased in the last five years is capable of handling most common business traffic needs. Customers therefore only upgrade the pockets of their networks that clearly require higher speeds.
What will it take to get customers to upgrade more of their networks?
Andrew Yager, Real Word Group
One of the things that we're seeing with customers wanting to transition from an on-prem infrastructure stack into a cloud infrastructure stack is they run into a whole lot of challenges with the ingress and the egress of data within the network.

When their edge has been suitable for their WAN connectivity, they've been focussed on how they can deliver enough performance to facilitate what might have been a ten or twenty or 100 megabit-per-second internet connection.

Then all of a sudden they're starting to connect to cloud services and sudden wanting gigabit connections. That's when the conversation about what performance they need around that network policy point changes.
Jason Hall, Dicker Data
What we're seeing, particularly in mid-market, is business owners who see employees walking around with 200 megabit-per-second in their mobile phones, downloading videos instantly whenever they want it.

So we've got CEOs being pushed to do video broadcasts instead of the old email newsletter. They've got video. They've got video conferencing.

Networks used to be a three-year engagement. You'd sign up with a telco for three years and you'd have to predict what speed you'd want in three years' time to the contract you've got now, otherwise, you've got a pretty severe penalty at the back end of it.

I think that where software-defined networking becomes very relevant for us and our customers is not locking them into what they need for the next three years today, but giving them the flexibility to move branches around as they shut down one branch and open a new branch where there is more business for them.

Or expand a branch they didn't think was going to expand, or allow users to operate from home at the same performance and security that they would if they're working in their office or work on the fly or any of those different scenarios.
Jason Hall
Nick Asscher, Touchpoint
We see sites where they want to deliver ten gigabits per second to the desktop and overhauling the entire infrastructure within a facility in order to achieve that.

The driver there is applications that require very large image files and the desire to share them peer-to-peer within that facility fairly quickly as well as make those files available outside of that building.

I think certainly the IoT trend is coming, but the traditional trend of the mushrooming amount of data isn't going away. Those file sizes are still getting bigger all the time and I think that's just as big a challenge as IoT for a lot of our customers to solve.
Briant Kareroa, AC3
In the state government market we see agencies with a lot of small offices. There might be three people there. And a lot of Office 365.

They want technologies that enable them to deliver. You're not delivering ten gigabits per second to the desktop. That's not a requirement.

But to deliver the basic office functionality they need, networks need to be very flexible. You need one that can control itself at the perimeter so it's not a dumb network.

You need some technology that enables the perimeter to determine the quickest path of all the paths that it could take back into the data centre. So we're doing a lot of work around how do those connections come to the data centre and what ways our clients, my customers, are using to make that connection.

And with the advent of technologies like smart WAN that enables them to have these appliances that can sort of think for themselves and then connect in a really smart way.
Briant Kareroa
Can security-driven upgrades get customers buying?
Kate Basten, Juniper Networks
I'm surprised security hasn't been brought up yet, especially with GDPR happening and the IoT becoming quite prevalent. I think compliance is a need for any business.

And the functionality of segmenting the network with SD-WAN is really important but security is a component of SD-WAN as far as I'm concerned.
Kate Basten
Doug Deall, CDM
A lot of mid-sized businesses don't actually understand security. They're used to North-South traffic and having a single firewall. Now, we're adding East-West traffic, we're bringing traffic to every single point on their network. But businesses just think 'I've still got my firewall over there and that's my protection.' Band-Aid. And it's not enough.
Doug Deall
Jason LeGuier
Interestingly, in conversations that I've had in forums not dissimilar from this, the conversation about security is about people.

And, that, if you start making the conversation about security about people, you start attracting the right level of interest within an organisation, rather than, we can secure the firewall, we can do this, we can limit this, we can cut this off. We can do all these sorts of patches and stuff.

The network should be the enforcement point. And, network covers all spans. Data centre, campus, branch, you know, cloud. The entire network should be the enforcement point.
Jason LeGuier
Darrin Iatrou, Juniper Networks
My biggest concern as a vendor in the security space is that typically we let bad stuff in to a point. So it's getting all the way in until it's actually verified that it's bad.

Why not stop it at the very first ethernet port it hits. And that, to me, is where I see security should be. And I think that, regardless of, as I said earlier, wherever it is on the network, security is present everywhere. Not just a firewall. I think we're way past firewalls. They're way in the past.
Darrin Iatrou
What about the internet of things? Are people ready? And modernising networks to get there?
Andrew Yager
I think one of the challenges with IoT is that it means a different thing to everybody.

For some it's about connected light bulbs and smart sensors within their building, and their fridge being able to reorder their milk when it's starting to go stale.

We have one customer that's heavily involved in both R&D and analytics relating to coastal ocean movements. They've got a whole range of smart sensors that they've deployed around their network, which grab that information

But I still think once you step outside of specialists who are focused on these sorts of things and picking up these niche markets, it still seems to be very much a niche product.
But to spin back on the security conversation, IoT devices are absolute security pariahs.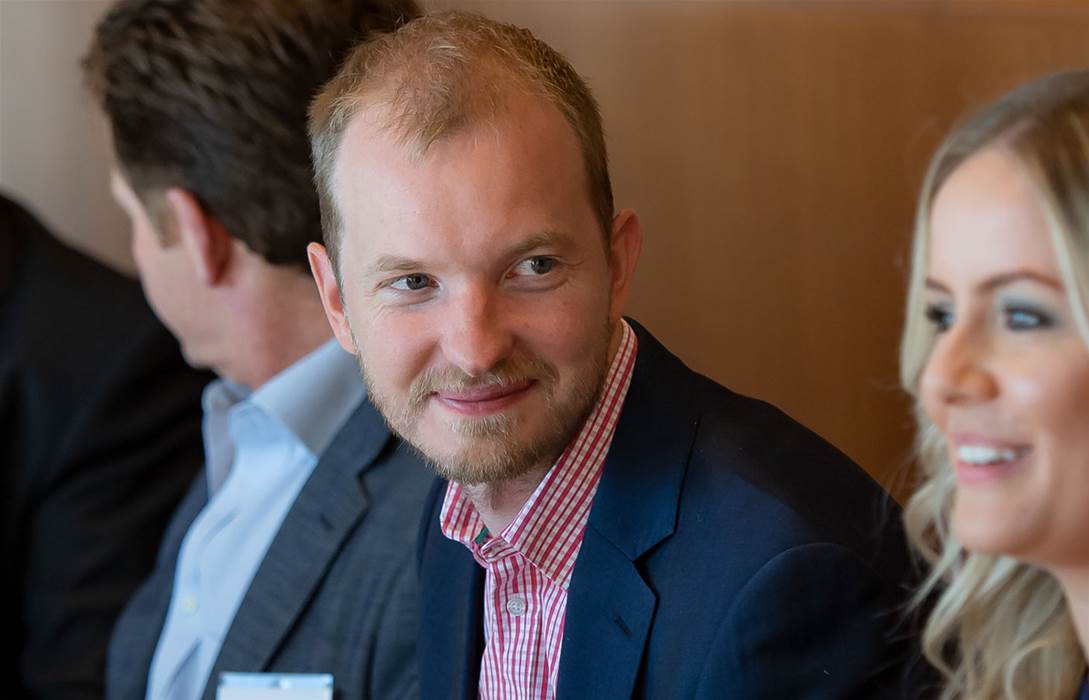 Andrew Yager
Jason Hall
The majority of organisations and commercial organisations in Australia are not yet deploying IOT at any other scale.

We believe that's starting to change. We're certainly starting to see partners invest in resources to be clear around their own strategy, their skill gaps, and where they're going to go so that, how they can have those conversations.

So we're seeing the traction starting to happen for it to go mainstream. The question is, what does that look like?
Yasser Elgammal, Dicker Data
You have to put multiple technologies together to deliver IoT. It's like the cloud three or four years ago - it's about breeding that ecosystem, right.

We can deliver an IoT sensor, but users will also need a gateway, the device manager platform, the data management platform, the Linux applications.
Channel players will need a consortium of technologies together to deliver a solution for your customer.
Yasser Elgammal
Glen Silver, Regal IT
We have to change, too. We've got a homeland security business, a number plate recognition system, facial recognition system, body-worn cameras. We've actually got our own IoT gateway business.

But we as an organisation have had to change. We now have to become a part of a consortium. Being a privately owned business for 27 years, it's been quite a difficult barrier for us to overcome, to have that level of trust out there in the community.

So I think we as businesses have to change to address that marketplace.
Do end-users see a need for network modernisation?
Nick Asscher
I think the majority of my customers know very well where they want to spend their money as soon as they've got some money to spend.
But security is actually the last thing on their mind. Functionality is the first thing.
Infrastructure managers and CIOs see it daily, they're bombarded by the internal user group "We want this, we want that", in terms of how we want to use our technology.
Nick Asscher
Glen Silver, Regal IT
I think sometimes as IT consultants and IT providers we can be too quick to dismiss usability and user experience when it comes to thinking about how to design end-user solutions.

I don't think that there's a one size-fits-all solution or a way of saying, "This is the magic sales blueprint that is going to get you from point A to point B", where you've preserved that user experience and that deliverable at the end of the day.

But I do think that we need to be careful not to just walk away saying you can't do it. But there is a lot of opportunity to be creative and work out how we can make use of these newer technologies like SD-WAN, like increased security awareness, like increased telemetry on the way through to actually deliver some of these things.

For mid-market companies these products are very, very accessible, but at the bottom end of that mid-market, they start to become quite a reach and for small businesses they can be completely unattainable.

That's where some of the transformation needs to be - looking at how to take some of those things and bring them down and work for us as integrators to help work out how to bring those things down in scalable and accessible ways.
Glen Silver
---
GUESTS
Nick Asscher
Owner and Director, Touchpoint

Doug Deall
Business Development Manager, CDM

Briant Kareroa
Sales Manager - Public Sector, AC3

Jason LeGuier
independent networking specialist

Glen Silver
Project Manager, Regal-IT

Andrew Yager
CEO, Real World Group

SPONSORS

Kate Basten
Distribution Manager, Juniper Networks

Yasser Elgammal
Head of Sales & Vendor Alliances, Dicker Data

Jason Hall
General Manager – Services & IoT , Dicker Data

Rob Haylock
Consulting Engineering Specialist, Juniper Networks

Darrin Iatrou
Area Partner Director A/NZ, Juniper Networks

FACILITATOR

Simon Sharwood
Editorial Director, CRN